Trinity Bursary Fund
Trinity has always been a school for children from every walk of life – indeed, this is central to its ethos and what makes it such a special place. This economic and social diversity has a profound effect on the sort of people Trinity students become. The Trinity Bursary Fund enables academically gifted young people from disadvantaged backgrounds in Croydon and the surrounding area to benefit from an outstanding education, unlock their full potential and go on to make their mark in the world
School Year 2020/2021‍
Legacies - Helping Future Generations of Croydon Children
450 Legators to follow in our Founder's footsteps. Will you be one of them?
We want 450 people to emulate John Whitgift by pledging to support Trinity School in their Wills by the 450th anniversary of our Foundation in 2046.
On 22 March 1596, the two foundation stones were laid at the Hospital of the Holy Trinity, commonly known as the Almshouses. They remain as a proud reminder of our heritage, founded on the generosity and foresight of just one individual.  Thinking in terms of years and decades must be in our minds when we contemplate the future of the school. So, 424 years after our foundation, we're asking our alumni, parents and supporters to emulate our Founder's vision for the future.
Our goal is to have 450 supporters pledge to remember Trinity in their Wills by the time of our 450th anniversary in 2046.
Will you be one of them?
Image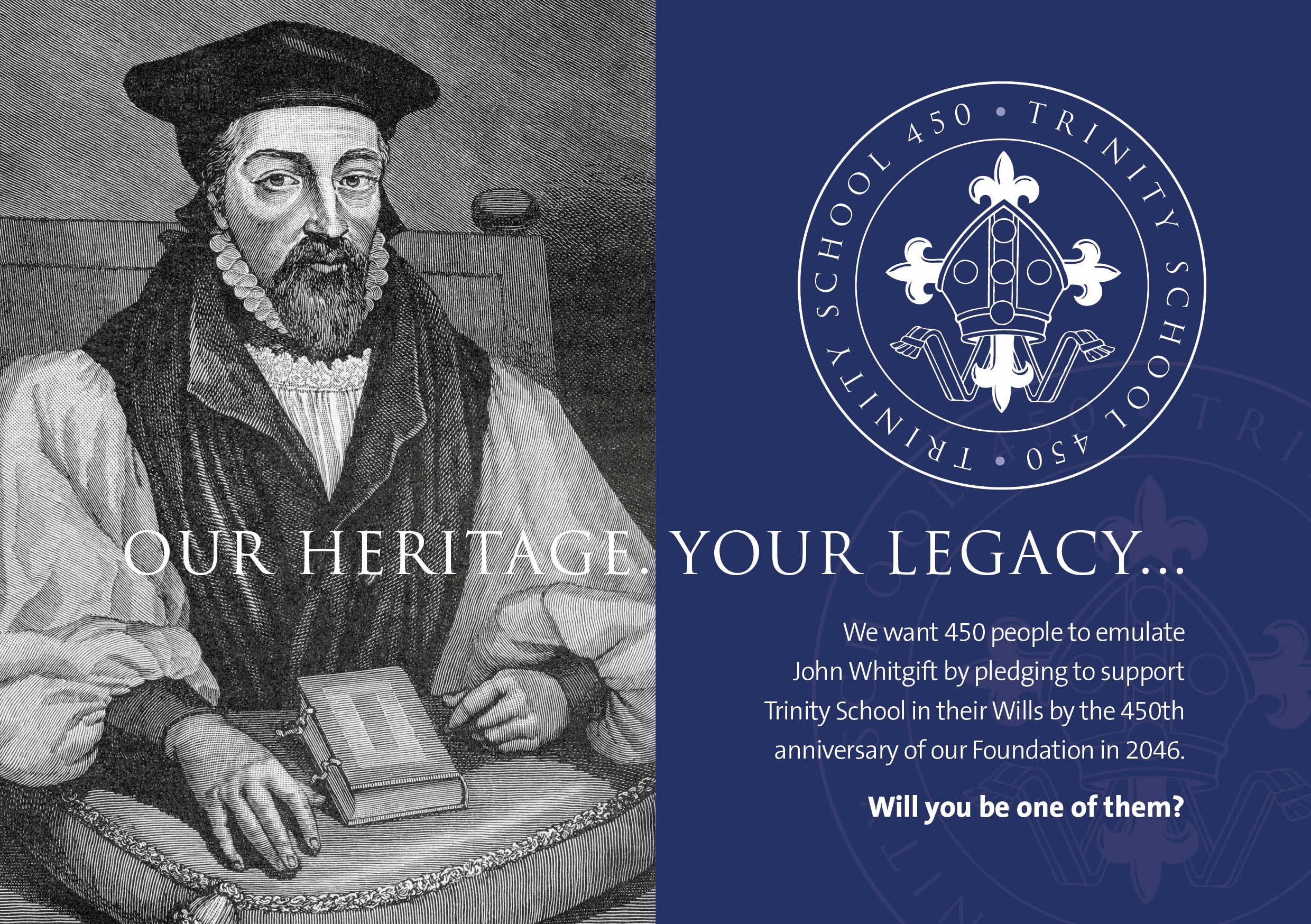 We are planning ahead....Way ahead!!
In addition to extending a helping hand to those children who are already looking forward to coming to our school in the next year and the year after, we want to make sure that Trinity can support and grow our bursary programme for the long term.
The best, and simplest, way for many donors to support the Bursary Fund is by leaving a legacy to the school in their WIlls.  There are considerable tax benefits in making a legacy gift and donors can plan their gifts in such a way that any concerns about giving to charity during their lifetime and providing for families and other causes can be dealt with in a flexible and effective way.
While making or changing a Will can take a little time to organise, and timing is typically dependent on other events happening in your lives, making a legacy pledge is quick and simple. We want our alumni and supporters to simply let us know they intend to remember Trinity School in their Will.
If You Will, We Will...
If you pledge to provide for the school in your Will, we will:
Liaise with your solicitor over the best way to reflect your intentions

Add your name to a commemorative plaque to be commissioned and displayed at Trinity School

Invite you to gatherings of our legacy group, the Mitre Society

Keep Trinity open, accessible, and true to its ethos of enabling bright, local children to receive the very best start in life 
Image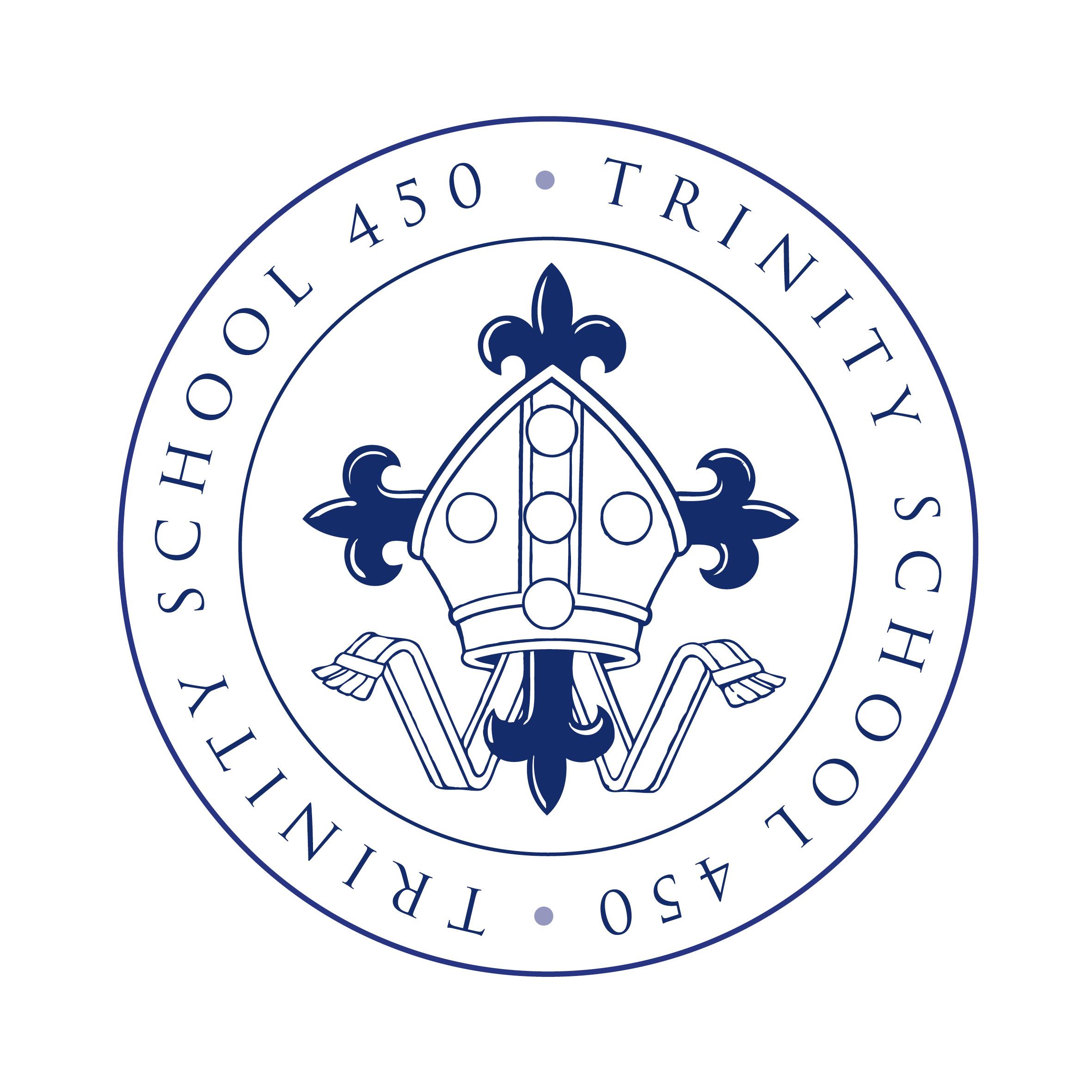 Pledging to leave a legacy to Trinity in your Will takes just a single email or letter
We recognise that people tend to change their Wills only at important times in their personal lives: marriage or divorce, the birth of children, serious illness, retirement and other major change of financial circumstances. By making a pledge to Trinity to provide a gift when you next write or revise your Will, you can indicate your future intention to support us without committing yourself to a date to formalise your gift, the amount of the gift or its structure.
We will record your pledge and contact you annually, with an update on our progress, and to provide assistance and support if you're ready to finalise your gift in your Will. You will become a valued member of our legacy club, The Mitre Society, automatically upon notice of your pledge to Trinity.
If you have any questions about making a pledge to Trinity in your Will, please complete the online form opposite and we'll be in touch.
If you're ready to make a pledge now, you can do so here pledge to leave a legacy
Contact Us