Image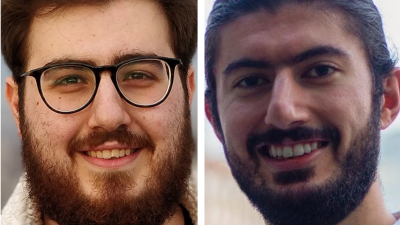 Brothers Andreas and Costa Georgiou joined Trinity on substantial bursaries in 2003 and 2005 respectively and left school for university careers in engineering after taking maths and science-based A Levels.
Costa studied Mechanical Engineering at Surrey and, more recently, an MSc in Automotive and Motorsport Engineering at Brunel.  "I'm really grateful that Trinity gave me the opportunity to study electronics – it's a pretty rare subject at A Level, but one which has been crucial in my chosen specialisation of electric car control systems. I'm now looking for opportunities at car manufacturers, but my dream job would be working with Formula 1 or Formula E as a principal engineer."
After a four-year Masters at Imperial, Andreas is working as a nuclear process engineer, focusing on the design of safety and waste management systems. "I've worked with a number of national and international clients on a wide range of projects, including fuel manufacture, reactor design, waste processing, managing legacy waste and nuclear fusion. I'm currently working towards becoming a chartered engineer and thoroughly enjoy the complexity of the challenges my work and study projects entail."
Both are in no doubt that their bursaries at Trinity changed their lives: "We come from a stable and happy, but modest background in Shirley," says Costa. "With family funds being limited, Andreas and I worked holiday and part-time jobs during our school and university careers in shops, as delivery drivers and as labourers on building sites to make ends meet. I don't think I would have fulfilled my true potential without the education and opportunities that were given to me at Trinity. A bursary gives those that are underprivileged and full of potential a chance to flourish and make the absolute most of their futures."
Andreas agrees: "Where you start in life shapes where you will go, and the bursary allowed me to have a great start at Trinity. Aside from an excellent education, I would have missed out on many extracurricular activities, including CCF, piano lessons, and the sub-aqua club. I would also have missed out on meeting a lot of my friends, whom I keep in contact with to this day."